With its traditional country pub atmosphere, the Red Lion Hognaston's bar will welcome and refresh even the weariest traveller, particularly with its open fires roaring on the coldest days.
Enjoy a pint of one of our guest ales, a glass of wine or a refreshing, freshly-made cup of tea or coffee while you choose from our Menu or check the bar's chalk board for the day's specials.
Current Real Ales on Offer at £3 a Pint!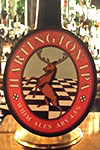 Children and dogs are welcome in the bar, but not in the letting rooms.